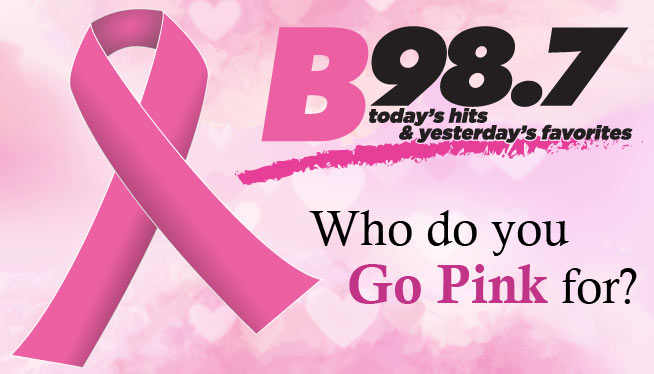 I go pink for my one year old baby boy! Myself, and now my aunt. I know that sounds weird, however, I was diagnosed with stage III breast cancer at the age of 28 at 21 weeks pregnant with my first baby. He endured 4 rounds of chemo with me. I was induced at 36 weeks, then a week after having him I started and endured 4 more rounds of chemo. Breast cancer has dramatically changes my life. It has helped me realize that my moments with my baby and my husband are the most important moments. I just finished my last treatment on September 16th. I will now be on hormone replacements for five to ten years. For all those who have beat breath cancer, going through it or knoe someone in that position I am so sorry but I truly believe some of thr strongest women have come from this. Some of the most beautiful women are created through this. You find out how strong you are and how amazing you really are. Let's find a cure!!! Breast cancer doesn't care how old you are or your family history. Do your exams, get checked frequently! So many told me I was too young, I still feel like I was and am but it can happen. I still remember that life changing day. I felt my life fall apart with every word thr doctord said to me and every appointment I went to. But I am finally seeing the rainbow through this storm. I am still scared, I still have so much I deal with physically and mentally, but my baby snd my husband show me daily I am stronger than cancer! I have a purpose and I will NOT let cancer win. 

 

I go pink for my beautiful sister Wendy who lost her fight to breast cancer on 3/17/2012. She was 53 years old and left behind 3 boys and a husband she adored! Breast cancer has no boundaries! It is because of my sister and her battle with this disease, I will do everything I can to educate women. I had genetic testing done at the urging of 2 physicians and am also a higher than average for the risk of breast cancer. I do everything I can to stay healthy and live a healthy lifestyle.
The fight for breast cancer is real and I was quite shocked to hear that Utah is the 2nd lowest in the nation for mammograms, but early detection is the key to fighting breast cancer.
Let's all " GO Pink" today for the women ( and men sometimes) that we love! Breast cancer involves all of us!! I " Go Pink" for my sweet sister Wendy for the victorious battle she fought. She gave it her all, but in the end cancer won! I don't want to have to see anyone suffer the pain my sister had to endure!

| | |
| --- | --- |
|   | I go pink for my fiances mother. She is a 2 time breast cancer survivor and has been cancer free for almost 15 years. She is a fighter and stays strong. |
Join B 98.7 all this month, as we "Go Pink" in honor of Breast Cancer Awareness month with Susan G. Komen Utah
One in eight US women will be diagnosed with breast cancer in their lifetime, more than 200,000 every year
Who do you "Go Pink" for?
Share your triumphs and tributes below and you could be our guest for the 4th annual Pink Tie Ball November 11th. 
Listen all month, as we feature your messages of hope on B 98.7
Join the fight against breast cancer and make a difference
Or find out how you can get involved  HERE
 Send your messages and "Go Pink" with B 98.7!