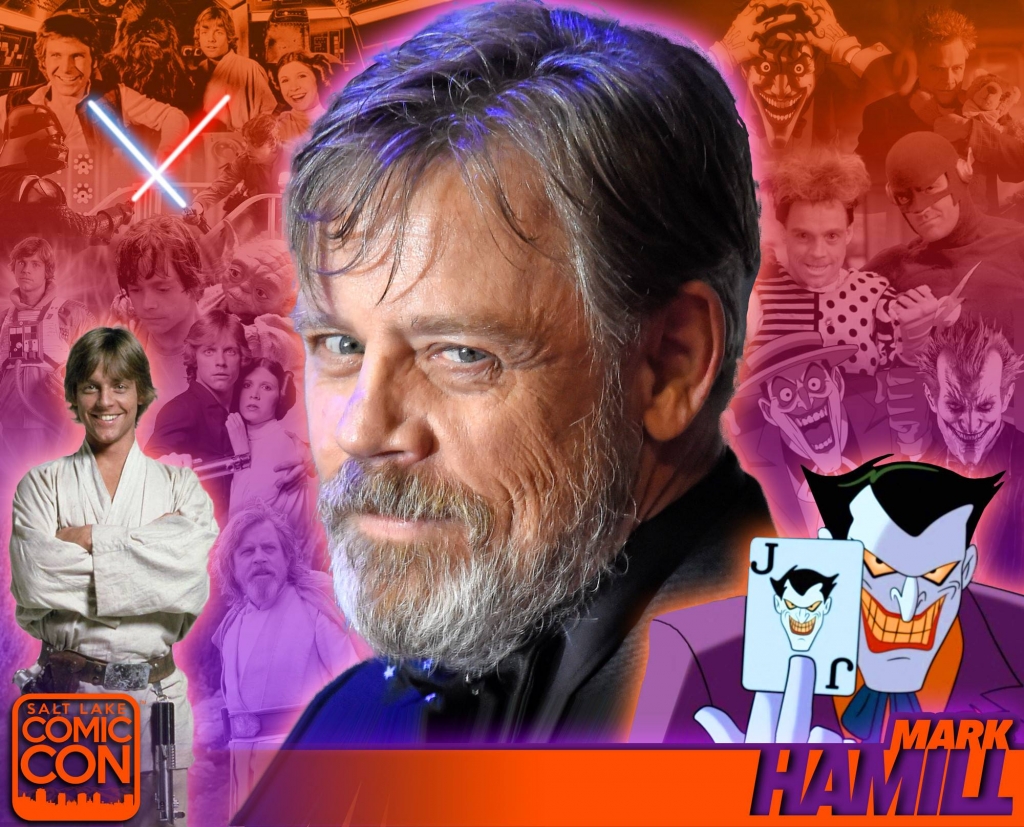 That's right! Salt Lake Comic Con brings it big time by getting Mark Hamill there and you know I will be there. Every year SLCC try's to up their game and they have done a great job this year. Nothing has kept us Star Wars fans so still as the ending of The Force Awakens when Luke Skywalker (Mark Hamill) appears and then the movie is over. 
He has done the "Con" circuit for a long time and a lot of people thought he would stop since he has had so many successes lately, but he is a "fans" Actor and he know s it. We are so lucky he is coming to SLCC! He is filming a movie in Utah right now so you may think it is pretty easy to get him, but that's not true. His vigorous filming schedule and the fact that we leaves thursday night to go to another convention for the weekend could have made it tricky for the SLCC folks. Dan and Bryan are magic makers and this little nerd is happy.
-Valerie Cameron
Here is the official Press release:
The Force Awakens In Salt Lake City: Mark Hamill Coming To Salt Lake Comic Con 2016
– Mark Hamill will make his only comic con appearance in the United States in 2016 at Salt Lake Comic Con on September 1 –
SALT LAKE CITY, Aug. 9, 2016 – The search for Luke Skywalker will end at Salt Lake Comic Con 2016 (http://saltlakecomiccon.com/) as show organizers announced today that Mark Hamill will make his only comic con appearance in the United States in 2016 at Salt Lake Comic Con on September 1, 2016.
Hamill is best known for his role as Luke Skywalker in Star Wars episodes IV, V and VI and most recently Star Wars VII: The Force Awakens. He is a prolific voice actor and is easily as popular in the comic book world as the voice of the Joker, commencing with Batman: The Animated Series and as recently as Batman: The Killing Joke. In addition to Star Wars, Hamill's other film roles include Corvette Summer, The Big Red One and Kingsman: The Secret Service.
At Salt Lake Comic Con 2016 Hamill will take photo ops with fans and provide autographs as well as a panel with 4,500 excited attendees. Click here for more information.
"Star Wars is one of our fans' favorites and the fact that Mark is making his only U.S. comic con appearance in 2016 at our show is huge for us," said Dan Farr, Salt Lake Comic Con Founder and Show Producer.  "For fans that felt a disturbance in the Force, it was Salt Lake Comic Con fans catching their breath when they heard Luke Skywalker is coming to Salt Lake City."
The Star Wars franchise began in 1977 with the release of Star Wars: A New Hope. In 1980 the second movie, The Empire Strikes Back was released, followed by Return of the Jedi in 1983. In 2012 The Walt Disney Company acquired Lucasfilm and announced a new trilogy, with the first film, Star Wars VII: The Force Awakens being released in 2015.
The Force Awakens is set 30 years after Return of the Jedi and focuses on the search for Luke Skywalker who disappeared after a student at his Jedi training school turns to the dark side, kills all the other students and destroys the school. The Force Awakens has grossed more than $2 billion in box office sales. Episode VIII is scheduled for release in 2017 and Hamill is back with a leading role.
Since 1977 the Star Wars saga has generated more than $6.4 billion, making it the fourth highest-grossing film series of all-time.
"We promised our fans that there were more guests to come and we're delivering on that promise in a big way," said Bryan Brandenburg, Salt Lake Comic Con Co-Founder and Chief Marketing Officer.  "It says a lot about our attendees and the reputation we've built amongst celebrities that a star as big as Mark Hamill would make Salt Lake Comic Con his only United States comic con appearance in 2016. Star Wars: A New Hope is the Highest Grossing Film in history*. To bring in the movie's top star of a film so successful is a tribute to how far we've come in a few short years."
Salt Lake Comic Con 2016 is September 1-3, 2016 at the Salt Palace Convention Center. For more information about Salt Lake Comic Con 2016 or to buy your ticket(s) now visit, http://www.saltlakecomiccon.com/.
ABOUT SALT LAKE COMIC CON:
Salt Lake Comic Con is organized by Dan Farr Productions, in partnership with ABC4/CW30 of the Nexstar Broadcasting Group and was founded by Dan Farr and Bryan Brandenburg. Dan Farr Productions is an event and marketing group devoted to organizing events, launching and acquiring new shows, and partnering with premium celebrities and brands in the pop culture arena. Dan Farr Productions is dedicated to producing spectacular celebrations of popular culture that lead the market in providing exceptional and rewarding experiences for our consumers, fans, celebrity guests, vendors and partners. Find out more at: www.SaltLakeComicCon.com, www.abc4.com/.