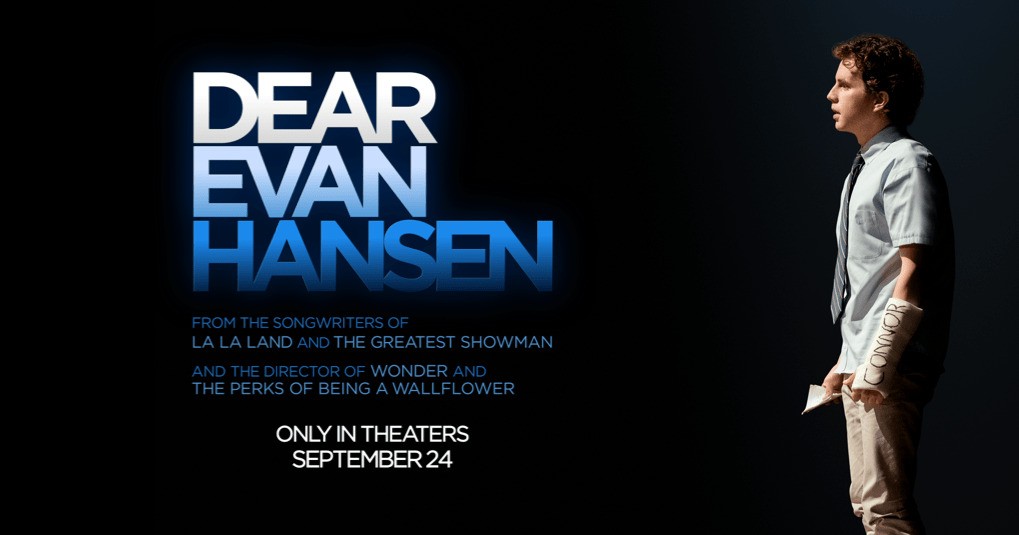 Dear Even Hansen
PG-13
*Trigger Warning. Sensitive material.
I am sure you have heard the name Evan Hansen, Dear Evan Hansen was a Broadway success. You might be like me, and never got to see the show on Broadway so you got a little excited when the movie was announced. I never knew what the musical was about, and then I saw the movie.
The Tony, Grammy and Emmy award winning Actor Ben Platt Reprises his roll as Evan Hansen. Initially this makes sense and it is great when we see a crossover between the stage on movies. His dad Marc Hansen, who produced the movies, probably thought it would also get him an Oscar nomination and closer to an EGOT. The problem is, when you sit down and watch the film you realize quickly he has defiantly aged out of this roll at 28. The movie is stacked with an amazing cast; Amy Adams, Julianne Moore, Kaitlyn Dever and Amandla Stenberg. Their acting along with some strong musical numbers pull you back into the film when the badly formulated writing lets you down.
Here is the basics of the story, Evan Hansen is a high school kids that most of us can relate to. He feels awkward, isolated and has social anxiety. His therapist gives him an assignment to write himself a pep talk letter. He accidentally prints it off at school and then the drama starts. Conner, another student at the school, finds the letter. Conner is also having a hard time in life and at school. Unfortunately Conner commits suicided and is found with the letter Evan wrote. Connors parents assume it is his suicide letter written to Evan, and that Evan was his friend.
Most of the story after this is full of drama, emotions and story lines that are hard to swallow. Evan pretends to be Connors friend. If you have ever been in a high school setting when a kid dies, for any reason, you have seen kids come out from the wood work and pretend they knew the person better than they did. This is actually where the story came from originally. The original writers had a similar experience. While I understand that if Evan does not pretend to do this we would not have a story, I also have big issues with the problems he causes by doing so. It is hard for me to swallow as someone who has had to deal with suicide both personally and socially.
Yes, we need to have empathy as a society and understand that everyone is going through something. We also need to recognize that high school now, with social media and other pressures, can be really hard. In this movie though, I have hard time keeping Evan as the victim that they are trying to portray him as. There are some good messages mixed in with clumsy writing. I would say the best thing to do if you know that you and your family wants to see it would be to see it together and then have some good discussions after the movie about all topics involved. It is a good sounding board to open the door to conversations with your kids about tough topics. However, it misses the mark to be a compelling and emotional piece of work that makes a difference in the cinema world.
Grade: C